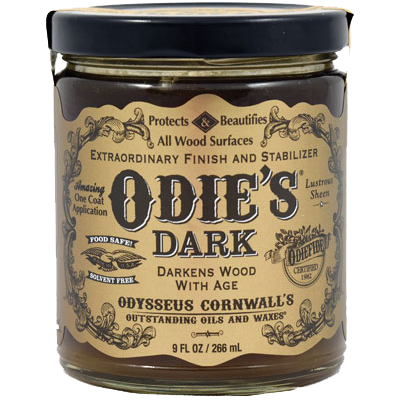 Odie's Dark Oil
Excl. 27% VAT
If you have a company, please send us your company name, address and VAT number to info@odiesoil.eu to get your VATFREE code and purchase without 27% VAT.
These special Odie's finish products contain natural oxidizing oils that darken wood not only when applied, but also as wood ages. Will also add contrast and patina with age. Use alone or in unison with other Odie's Oil finish products to add polish and sheen.
Odie's Dark products create incredible contrast. Blacks pop with these products! Great for mahogany and other darker woods like ebony.
The dark depth and rich patina are such that results cannot be duplicated with stain.
Recommended for interior use. Doors, floors, fine furniture, bowls, toys, etc.
"No solvents" means there is almost nothing to evaporate, so what you put on the wood, stays in the wood.
Odie's Dark covers many, many times the area of other wood finishes. Up to 20 times the coverage as conventional finishes. Coverage will vary depending on wood density and porosity.
Components: 70% oil 30% wax
Available in 9 oz. (~266 ml) re-useable glass jars.
Order Code: DARK9OZ